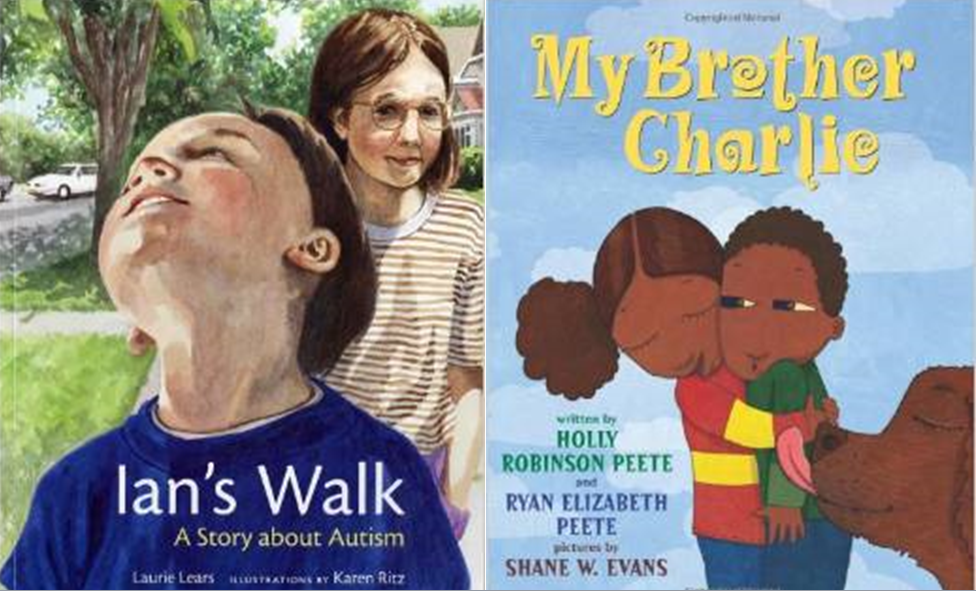 Both books explore the feelings of girls who have brothers diagnosed with autism.
Ian's Walk: A Story about Autism, by Laurie Lears (Author), Karen Ritz (Illustrator), Published by Albert Whitman (January 1998) Age Range: 6-9 years.
Ian's Walk is about the day Tara and Julie's little brother begs to tag along on a walk to the park. Julie describes what it's like to walk with Ian because of the way he responds to his environment. Annoyed the walk is taking so long, Julie diverts her attention and in a split second, Ian disappears.  However when Julie thinks about what Ian likes, she knows exactly where to look. Visibly relieved her little brother is safe, they walk home together doing thinks Ian enjoys.
My Brother Charlie, by Holly and Ryan Elizabeth Peete (Authors), Shane Evans (Illustrator), Published by Scholastic (2010) Age Range: 7-10 years.
My Brother Charlie explores the relationship between Callie and her twin brother. Callie explains how she and Charlie are the same but also different. She describes Charlie's behaviors and her feelings about his differences because on some days it's hard to be his sister. But she also shares what makes Charlie unique. And what matters most is that Callie loves him as much as Charlie loves her.