WELCOME!
Bienvenue! Ahlan wa Sahlan! Mabuhay! Kon'nichiwa!
I write books for kids. Because readers are leaders!
Thanks for stopping by. I hope you find something useful here.
Click on a cover to learn more about each book! For more promotional images, click here.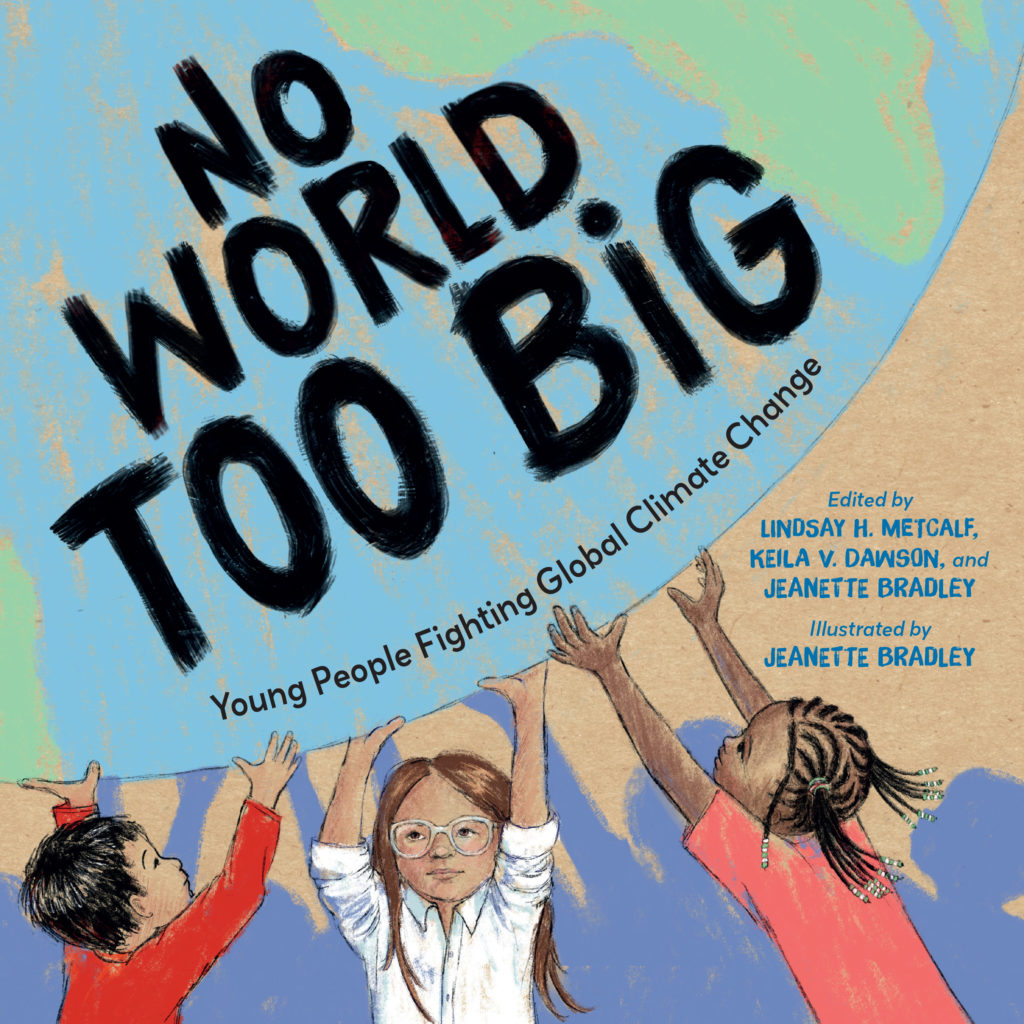 No World Too Big: Young People Fighting Global Climate Change
Edited by Lindsay H. Metcalf, Keila V. Dawson, and Jeanette Bradley; Illustrated by Jeanette Bradley
Fans of No Voice Too Small will be inspired by young climate activists who made an impact around climate change in their communities, countries, and beyond.
Climate change impacts everyone, but the future belongs to young people. No World Too Big celebrates twelve young activists and three activist groups on front lines of the climate crisis who have planted trees in Uganda, protected water in Canada, reduced school bus' climate footprint in Indonesia, invented alternate power sources in Ohio, and more.
Charlesbridge | ISBN: 978-1-62354-313-6
40 pages | ages 5-9
Pre-order now!
No Voice Too Small: Fourteen Young Americans Making History
No Voice Too Small celebrates the young people who know how to be the change they seek. Fourteen poems honor these young activists. Featuring poems by Lesléa Newman, Traci Sorell, and Nikki Grimes. Additional text goes into detail about each youth activist's life and how readers can get involved.
Now available!
Charlesbridge | ISBN: 978-1-6235-4131-6
40 pages | ages 5-9
Purchase wherever books are sold!
OPENING THE ROAD: Victor Hugo Green and His Green Book
"Hungry? Check the Green Book. Tired? Check the Green Book. Sick? Check the Green Book."
In the late 1930s when segregation was legal and Black Americans couldn't visit every establishment or travel everywhere they wanted to safely, a New Yorker named Victor Hugo Green decided to do something about it.
In the first picture book about the creation and distribution of The Green Book, author Keila Dawson and illustrator Alleanna Harris tell the story of the man behind it and how this travel guide opened the road for a safer, more equitable America.
Beaming Books | ISBN: 978-1506467917
40 pages | ages 4-8
Purchase wherever books are sold!
The King Cake Baby
The little plastic baby traditionally hidden inside a Mardi Gras King Cake is the runaway in this tasty new adaptation of an old folktale. The story sparkles with French phrases, New Orleans colloquialisms, and vibrant, comic-book style artwork depicting the city's characters and treasures. Includes an easy king cake recipe. Bon appétit!
Pelican Pub | ISBN: 978-1-45562-013-5
32 pages | ages 4-8
Where can you catch The King Cake Baby?
12 Days of Carnival Coloring & Song Book
Click here for directions on how to print a FREE copy of the 12 Days of Carnival as individual coloring pages or as a booklet.
The first day of Carnival is every January 6th. Wanna pass a good time? Follow these links to plan a party, bake an easy peasy king cake and read THE KING CAKE BABY book!
Happy Mardi Gras!
©Keila V. Dawson and Keila V. Dawson, Author & Educator 2014-2022. Unauthorized use and/or duplication of this material without express and written permission from this site's author and/or owner is strictly prohibited. Excerpts and links may be used, provided that full and clear credit is given to Keila V. Dawson and Keila V. Dawson, Author & Educator with appropriate and specific direction to the original content.