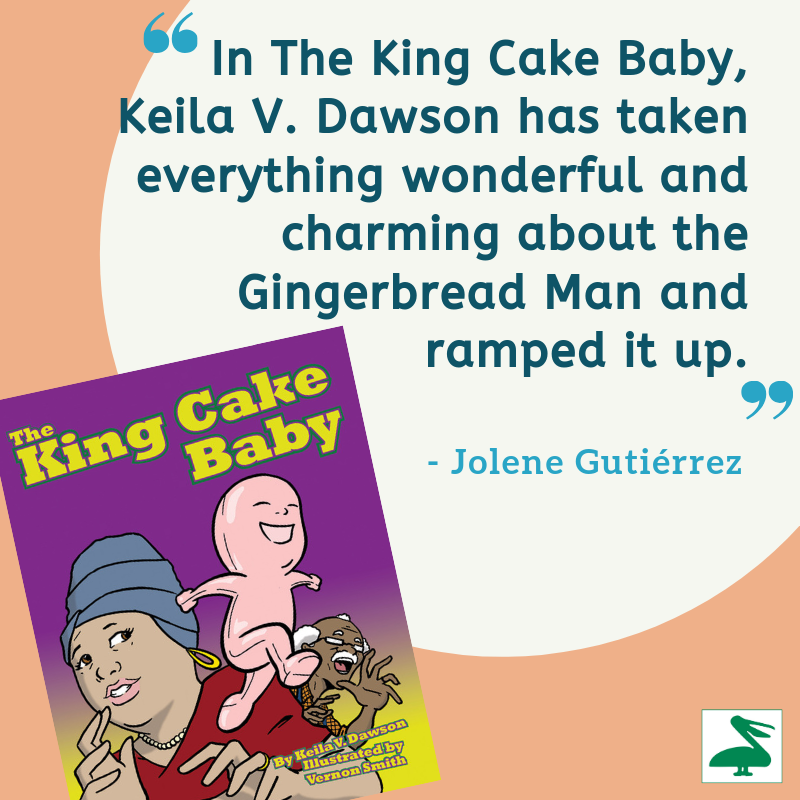 The little plastic baby traditionally hidden inside a Mardi Gras King Cake is the runaway in this tasty new adaptation of an old folktale. The story sparkles with French phrases, New Orleans colloquialisms, and vibrant, comic-book style artwork depicting the city's characters and treasures. Includes an easy king cake recipe. Bon appétit!
Where can you catch the King Cake Baby?
Bookshop | Amazon | Barnes & Noble | Pelican Publishing
Educational Resources:
FREE Study Guide! Activities aligned with the academic standards, crafts, coloring sheets, and more.
For a delicious STEM and following directions activity, check out this kid-friendly King Cake recipe to accompany THE KING CAKE BABY story. It's simple, educational, and fun! Click Mardi Gras King Cake from Pillsbury Dough Sheets to see step-by-step photo directions.
Follow the link to learn how to host an Easy Peasy King Cake Party. See fun photos of kids making this king cake!
Book Trailer:
Media:
Blog Posts:
Christie is a writer and blogger who runs! Check out her sitefor loads of writerly advice and author interviews. To see the interview about my runner, The King Cake Baby on Christie's HIGH FIVE page, click here.
WVXU 91.7 (NPR) interview, aired February 1, 2015, Lee Hay, host of the program Around Cincinnati, interviewed me about my debut book, THE KING CAKE BABY. Click hereto listen to the interview.
Marcie Atkins is a librarian and blogger who graciously shares her knowledge about using mentor texts as resources for teaching and writing. Visit Marcie's blog to see my post from March 17, 2015, "Finding Authentic Voice in Cultural Mentor Texts" and much, much more.
Jennifer Cunningham Sommer's blog interview from January 19, 2015 about my debut release.
Sub It Club featured the query letter that lead to the acquisition of my manuscript for The King Cake Baby. To see that post from February 7, 2015, click here. I blogged about Sub It Club here.
Author interview by Debbie LaCroix co-creator of the Debut PB Study Group on Facebook. To see the February 11, 2015 interview, click here.
Carissa Mina's blog, Writer and stuffto read her March 6, 2015, First-Time Picture Book Author Cover Letters, Exposed!
Mardi Gras Books for kids –

eLeMeNO-P Kids
**********