Coming Home by Greg Ruth
Coming Home by Greg Ruth is today's pick for Perfect Picture Book Friday!
Written & Illustrated by: Greg Ruth
Publisher: Feiwel & Friends (November 4, 2014)
Suitable for ages: 4-7
Themes/Topics: military families, resilience, hope, anticipation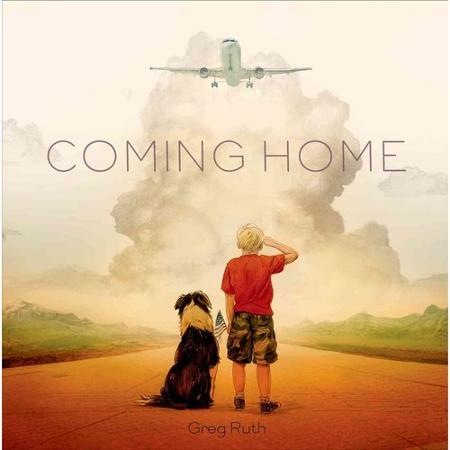 Brief Synopsis: Coming Home is a nearly wordless story of a young boy awaiting a loved one to return home. It is a sweet and simple story depicting a typical military homecoming scene. Through eyes of the boy, readers experience the emotion and anticipation felt on this joyous day when families and friends gather to greet their loved ones. The boy sees others arrive while he searches for his someone special. And it has the perfect surprise ending!
Opening pages:  "Every day, soldiers leave their families to protect others. We love them. We miss them when they're gone. And we want them all to come home. They are our heroes."
Why I like this book: As a former educator in the Department of Defense Dependent Schools I know first-hand how deployments affect children. As a military spouse, this book flooded my memory. I re-experienced every homecoming scene I and my children have had when their father returned from an assignment as an active duty naval officer. It's very moving. Civilians get a glimpse into the life of a military child.
The beautiful illustrations depict the many different ways a homecoming can be celebrated. There are spouses, parents, friends, pets, even a man touching the belly of his pregnant wife. I highly recommend it!
Resources: Little Listeners in an Uncertain World Coping strategies for you and your child during deployment or when a crisis occurs. Two options to create a book together, when it's dad or when it's mom "out there."
Helping children handle deployments Addresses a child's moodiness and behavior during the deployment may be a sign of stress or anxiety and how to help.
Preparing children for deployment Tools and resources for military families throughout each stage of deployment by those who have been there.
The "So Far" Guide A guide to help children and youth cope with the deployment of a parent in the military reserves.
For other Perfect Picture Book Friday picks from today, head over to author Susanna Hill's page here.
Happy reading!