How to catch Mardi Gras throws is a question asked by visitors every year. Is it an art? Is it a science? Catching "throws", the beads, cups, toys, doubloons, and trinkets thrown from Mardi Gras floats is serious business. Can tourists learn to maximize their chances of returning from parades with a huge haul?
As we say in southern Louisiana, yes, indeed! Below are some tips for a successful trip.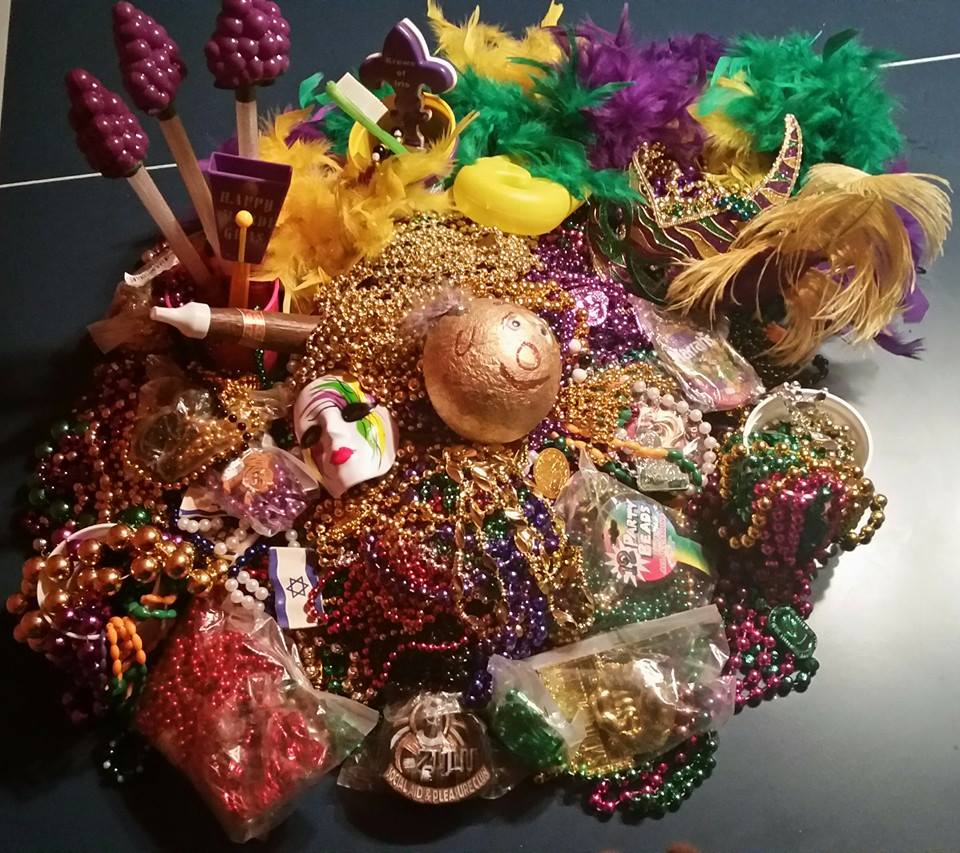 Quick tips:
1. Comfortable clothing. Seems like a no-brainer, but yes, I've seen people in open toe shoes and heels. Clothes worn to the gym or yoga are great. Parades are no place for vanity, people! Keep your eye on the prize, catching free stuff!
2. Training & Exercise. Competing with locals who are obviously born with the "catch" gene will take some preparation. Work on your vertical jump. Start a stretching routine. Flexibility is key. Improve your reflexes.
3. Anticipation. You have to be able to recognize when a float rider has targeted you for the throw or someone else. If the 3-year-old on his or her father's or mother's shoulders is the target, you have seconds to decide if you will snag that throw. However, if you do, I suggest you move to a new location.
3. Practice. Get in front of a mirror, raise your arms up high, wave furiously while jumping up and down and scream, "Throw me somethin' mista'!" Acceptable alternatives include, "Hey, ova here!" or "Me! Me!" or "Here, here! Mistah'!" I've witnessed many falls. Can you say EMBARRASSING! Practice, practice, practice.
4. Visual attention. Never take your eye off a passing float! Let's face it, some float riders have really poor aim. Use your peripheral vision to avoid elbows, arms, and crashing bodies. Ouch.
5. Competition. It's important to size up those parade goers around you. Assess the number of parade ladders with seats. How many are nearby? Cute kids in costume. No explanation necessary. You think older people are no threat to a successful haul? See #2. For locals, it's their natural habitat. Do not be deceived. Missed air born throws that reach the ground are their specialty. Do not try to pick them up. Feet are used to accommodate for their lack of upper arm mobility. Crushed fingers are no fun.
4. Science and more. Here's where that high school physics class you thought you'd never need could be useful. Speed. Distance. Velocity. Mass. Are the beads small or large? Short or long? Single or in a full pack? With or without a medallion or some other attachment? Applicable to other trinkets and toys as well. Consider the type of toss. Underhand or overhand? Adult or child? Factor in the level of inebriation. How badly does the krewe member sway and lean? Inebriated float riders may throw a pack of beads intact. Muscle motor function may be impaired. In short, they have difficulty opening the plastic bags. Be brave. Be ready.
Good luck out there! And remember, if you may catch so many beads and trinkets that you'll have to consider paying the airline overweight charge, or have to check an additional bag on your flight home, félicitations! Well done!
You did it! Be proud. Start planning a return trip. You know you can do better next year.
Happy Mardi Gras!