Creole Louisiana Jambalaya
I'm all about the easy and some folks call Louisiana the Big Easy, so today I'm sharing my Creole Louisiana Jambalaya made with Tony Chachere's Creole Jambalaya Mix. It's a pretty easy one pot dish but made differently from the directions on the box. I add a little extra. Back home we call that lagniappe. Bon appétit!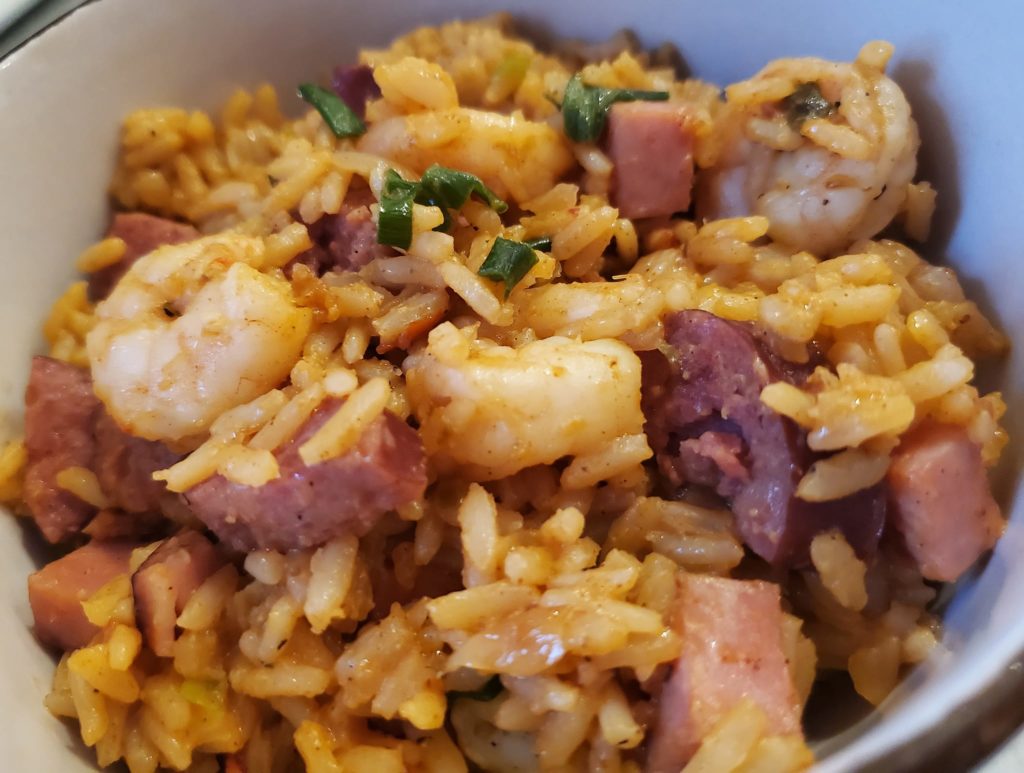 Creole Louisiana Jambalaya
Ingredients
1 12 oz Family Size box Tony Chachere's Creole Jambalaya Mix
cooking oil (vegetable or olive oil)
cayenne
¼ cup butter
1 medium yellow onion, diced
¼ cup green onion, diced
½ lb. smoked sausage (pork or beef), coin sliced
½ pound large shrimp (31-40 count)
½ lb. ham slice, cubed 3 ¾ cups water
Louisiana Creole seasoning:

½ tsp cayenne
1 tsp paprika
½ tsp dried oregano
½ tsp dried thyme
1 tbsp dried garlic powder
½ tsp black pepper
1 teaspoon salt
½ tsp onion powder
Directions:
1. Peel and devein shrimp. Season with Louisiana Creole Seasoning. Set aside.
2. In a 4 or 5-quart Dutch oven, sauté yellow onion in oil.
3. In the same pot, brown sausage and ham. Transfer all to a bowl. Set aside.
4. Add 1 12 oz. box of Tony Chachere's Creole Jambalaya Mix to the pot and 3 ¾ cups water. Stir until well blended.
5. Bring to a boil. Reduce heat to low, cover, and simmer for 20 minutes until rice is cooked. Most of the water will evaporate.
6. Add meat, seasoned shrimp, and green onion. Cook about another 10 minutes until shrimp are cooked.
7. Add butter, mix well. Add more Creole seasoning and or cayenne to taste.