Creole Louisiana Mirliton Recipe
Happy fall, y'all!
Today's post comes with a family recipe for one of my childhood favorite foods. But, we need to dig into some world history first!
What does Latin America, Central America and the Caribbean have to do with my Creole Louisiana Mirlton recipe? Read on…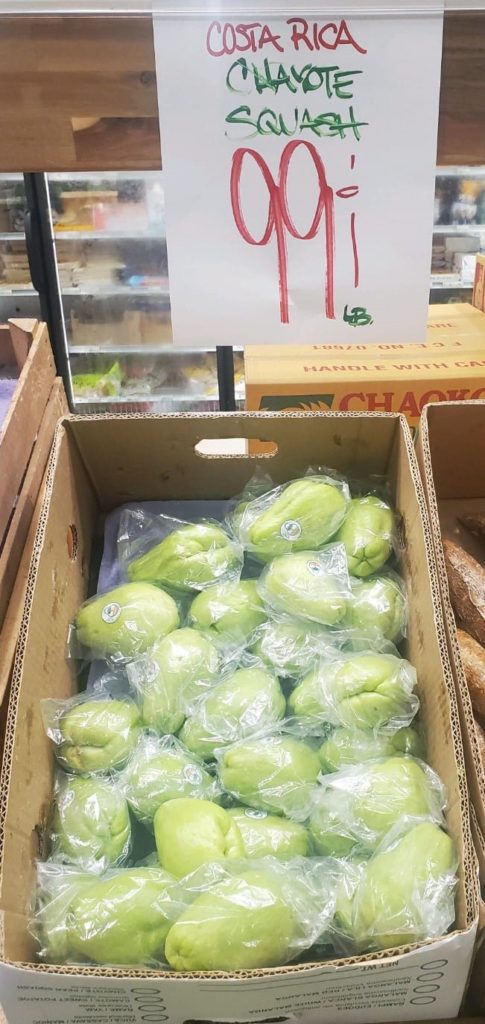 Mirliton, [MEL-ee-tawn], [MER-lee-tawn], or [MEEL-ee-tawn] in Louisiana, [MEER-lee-tawn] in French, is a south Louisiana staple. The squash, called chayote [chah·YOH·teh] in Spanish, is native to Mesoamerica. This old world plant has documented roots in Louisiana dated in the mid-1800s. However, evidence suggests it reached the Louisiana colony much earlier. In one theory, the plant came to the port city of New Orleans, while a Spanish colony, via other Spanish colonies in Latin America. Another explanation is that it came with colonizers (including gens de couleur libres) and the people they enslaved that fled to New Orleans from Saint-Domingue and Cuba from 1791 to 1815, during and following the slave rebellion that created the Republic of Haiti in 1804. The evidence supporting this latter theory is the fact that there are two places that use the word "mirliton" for this squash—Louisiana and the former French colony renamed Haiti after the revolution. In English, Anglo-Americans call this squash a "vegetable pear" because of its shape. So was the staple called chayote brought to colonial Louisiana during the Spanish period? If so, did the influx of roughly 15,000 French-speakers from Saint-Domingue and Cuba that arrived in New Orleans influence using the French name for the squash? Or was it brought to Louisiana by Saint-Dominguans?
Food history is so fascinating!
This squash is technically a fruit and grows on a vine in warm climates. I remember mirliton growing in my grandmother's backyard in New Orleans. The plant grew all over the city before Hurricane Katrina decimated the plant. As part of hurricane recovery, a nonprofit organization dedicated itself to the revival and conservation of the Louisiana mirliton.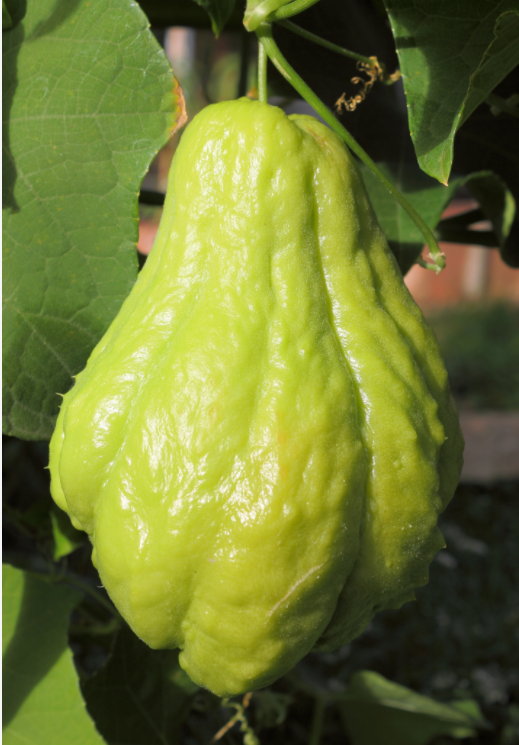 Чайот.JPG" by SKas is licensed with CC BY-SA 4.0
Below is the recipe passed on to me that I will pass on to my children.
Louisiana Creole Mirliton Recipe
Ingredients and prep:
6-8 medium mirlitons
2 pounds gulf shrimp
1 pound white lump crab meat
1 pound cooked ham, cubed
1 medium bell peppers, diced
1 medium onions, diced
1 stalk celery, diced
2 bay leaves
½ cup parsley, minced
1 teaspoon thyme
2 cloves garlic, minced
1 stick butter
Louisiana Creole seasoning

½ tsp cayenne
1 tsp paprika
½ tsp dried oregano
½ tsp dried thyme
1 tbsp dried garlic powder
½ tsp black pepper
1 teaspoon salt
½ tsp onion powder

cayenne pepper to taste
Italian bread crumbs
Directions:
Preheat oven to 350°F (176 °C).
Boil whole mirlitons in salted water until tender, about 45 minutes. Remove from water and set aside to cool.
While the mirlitons cool, sauté onion, celery, and bell pepper in butter until soft, about 5 minutes. Add ham, garlic, thyme, and bay leaves. Cook another 20 minutes.
Sprinkle shrimp with Louisiana Creole seasoning. Set aside.
Cut cooled mirlitons in half and remove the seeds and pods. Scoop out the mirliton flesh and place into a colander. Lightly squeeze out excess moisture. TIP: If you want to stuff the shells instead of making a casserole, score on the sides before scooping to leave a little flesh on the sides. The skin tears easily.
Add drained mirlitons to Dutch oven. Add cayenne. TIP: If there's a lot of water, add a tablespoon of breadcrumbs to thicken or cook on medium-low heat, uncovered, until most of the liquid evaporates.
Add seasoned shrimp. Cook about 20 minutes.
Fold in crabmeat and parsley. Put mixture in mirliton shells.
Top with bread crumbs. Bake for 20-30 minutes or until bread crumbs turn brown.
Serve with Louisiana French Bread or French baguette.
Bon appétit!
OPTION: Make as a casserole.