Martina & Chrissie: The Greatest Rivalry in the History or Sports
Today's Perfect Picture Book Friday pick is Martina & Chrissie: The Greatest Rivalry in the History or Sports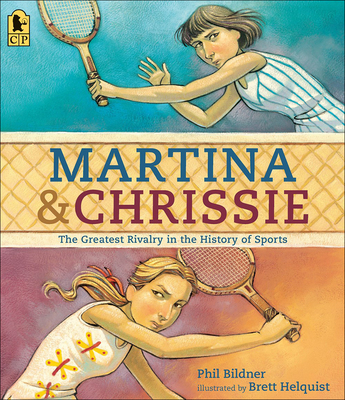 This Saturday is the kick-off of the Western & Southern Open Tennis Tournament here in Cincinnati, an exciting week for tennis fans. As a player, I enjoy keeping up with the pros and watching professional tennis. Some of the most thrilling matches in women's tennis happened between Martina Navratilova and Chris Evert. This dual biography tells their story.
Written by: Phil Bildner
Illustrated by: Brett Helquist
Publisher: Candlewick (March 14, 2017)
Suitable for ages: 7-10
Themes/Topics: Sportsmanship, women in sports, professional athletes, perseverance, resilience, equality, and respect
Brief Synopsis: Two professional female tennis players, Chris Evert from America and Martina Navratilova from Czechoslovakia, had very different upbringings and very different approaches to the game. But both shared the same goal – to be the best in the world.
Why I like this book: Martina Navratilova and Chris Evert were two talented, hard-working athletes who competed for the #1 ranking in women's tennis . As the top female players on the tour in the 1970's and 80's they were often fierce opponents. Martina & Chrissie were also friends. These two talented hard-working athletes competed for fifteen years. Martina and Chrissie met 80 times on the court – 60 of their matches were in tournament finals!
The two best players in the world battled tournament after tournament. One time Martina beat Chrissie, another time Chrissie beat Martina. When Martina started losing often to Chrissie, she decided to train harder. The training paid off and Martina started winning their matches.
Martina beat Chrissie 13 times in a row in tournament finals! But Chrissie never gave up. At one tournament when everyone thought Chrissie would lose, she fought back and won. Chrissie and Martina made each other better players. Their friendship endured the greatest rivalry in the history of sports. And both won the hearts of tennis fans worldwide.
Resources:
Happy reading!