Pot-au-feu a la Creole
On this first day of the new year, I am sharing another recipe my mama passed on to me. Looking at her handwritten recipes fills my heart with warm memories and my tummy, too.
As the weather cooled in the fall, I wanted to use the last of my farm fresh garden veggies, so I looked for another old-world recipe from my childhood. I made Pot-au-feu (pot on fire in English). So worth the time it takes!
As always, I consulted The Picayune's Creole Book to learn some of the food history about this dish and yes, for a good chuckle, too. Here's what it says about Pot-au-Feu a la Creole…"This POT-AU-FEU, properly made, is truly delicious, savory and delicately odorous. It is important to have good beef, and that it be as freshly killed as can be had. Many of the Creoles add the beef spleen or brisket to the soup. This is rich and juicy, and gives nutritive value to the dish."
Check out how a chef makes the old-world French version of Pot-au-feu in this video.
Where American recipes brown the meat in veggie beef soup recipes, this one requires boiling the meat with soup bones, so first you make a stock. YUM.
Happy New Year! Wishing you health, happiness, and lots of good food to eat in 2023!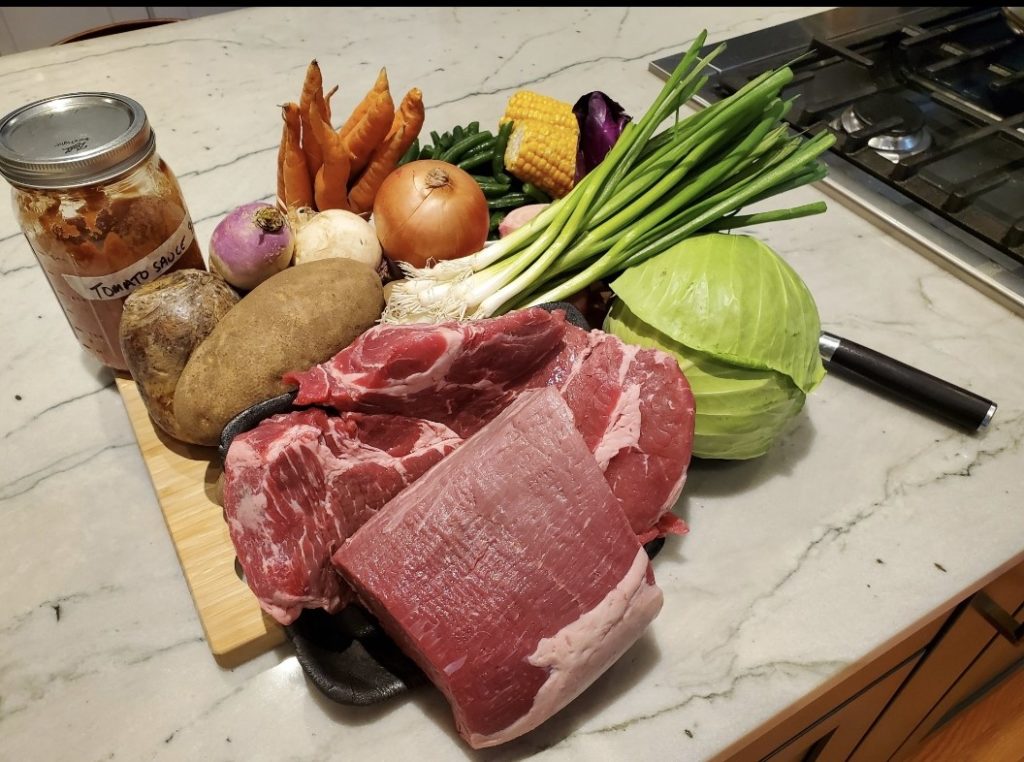 Mama's Pot-au-Feu a la Creole
Ingredients:
1 gallon of cold water
6 pounds beef (boneless chuck roast and eye of Round)
2 lbs. beef soup bones
2 large yellow onions
3 stalks celery
½ tsp. thyme
3 bay leaves
1 8 oz tomato sauce
2 tomatoes
2 rutabagas
6 carrots
3 turnips
4 or 5 ears of corn
1 lb. green beans
2 bunches of green onion
1 small cabbage
2 cloves garlic, minced
3 potatoes
salt & pepper
Louisiana Creole Seasoning:
½ tsp cayenne
1 tsp paprika
½ tsp dried oregano
½ tsp dried thyme
1 tbsp dried garlic powder
½ tsp black pepper
1 tsp salt
½ tsp onion powder
Directions:
1. Dice fresh vegetables and beef into small bite-sized pieces.
2. Season boneless meat with salt, pepper and Louisiana Creole seasoning. Then add meat, tomatoes, tomato sauce, yellow onions, celery, thyme, bay leaf and soup bones to a large 12–16-quart stockpot with a gallon of cold water. Boil at least an hour or until the meat is tender. Do not stir. As the fat rises to the top, skim from the broth and discard or save for another dish. OPTIONAL: To reduce the need to skim, remove most of the fat from meat before boiling. However, leave some as the fat and marrow from soup bones to add to the taste.
3. When meat is tender, add rutabagas, carrots, turnips. Reduce heat to simmer and cook about 30 minutes.
4. When the root veggies are tender, add corn, green beans, green onion, cabbage and cook for 30 minutes.
5. Add potatoes and garlic. If needed, add more water to the pot to keep meat and veggies covered. Cook 20 minutes.
5. Add more Louisiana Creole seasoning and salt and pepper to taste.
6. Served with French bread.
Bon Appétit!