Elephants Make Fine Friends by Colter Jackson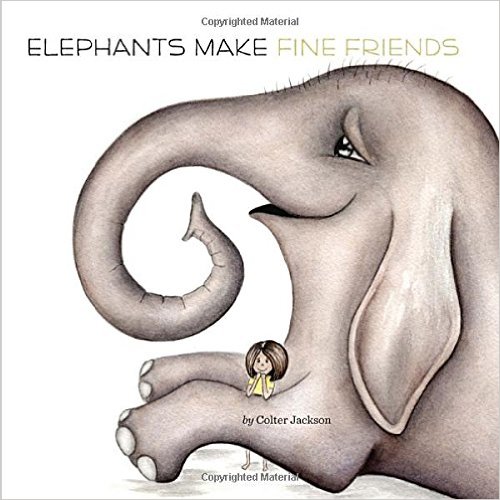 Written/Illustrated by: Colter Jackson 
Publisher: Grosset & Dunlap (August 2015)
Suitable for ages: 3-5
Themes/Topics: friendship, recognizing differences, empathy, acceptance, elephants
Brief Synopsis:  Ella has elephant problems. She sent her elephant away although they are best friends because of their differences. Elephants don't fit in bathtubs or at the dinner table. They make big messes. Then Ella realizes watching the moon rise or reading books or going to the movies is just not the same without her best friend. When Ella reunites with her elephant she learns humans make fine friends too.
Opening pages:  "Ella's best friend is an elephant. They went everywhere together. And did everything side by side."
Why I like this book: This story is such a tender yet powerful story of friendship. It helps young children see that although differences exist and are even expected between two friends, it's the similarities they share that matter. The illustrations are warm and inviting.
Resources:  Click here to land on the book Facebook page.
Click here to land on Colter Jackson's website.
Click here for more stories about friendship from The Measured Mom.
Click here for more stories about friendship from No Time For Flash Cards.
For more of today's book reviews, click here to go to author Susanna Hill's Perfect Picture Book page.