Ada's Violin by Susan Hood
Today's pick for Perfect Picture Book Friday is Ada's Violin: The Story of the Recycled Orchestra of Paraguay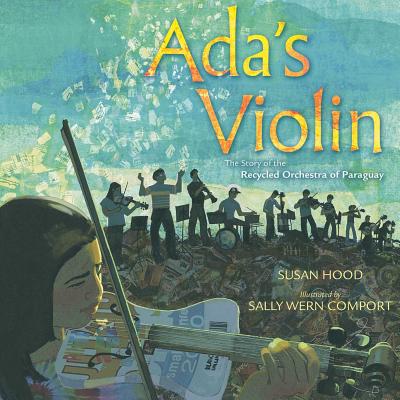 Written by: Susan Hood
Illustrated by: Sally Wern Comport
Publisher: Simon & Schuster Books for Young Readers (2016)
Suitable for ages: 4-8
Themes/Topics: Resilience, Poverty, Compassion, Courage, Community, Creativity, Paraguay, Music
Brief Synopsis: This is the true story of Ada Ríos and the start of The Recycled Orchestra from the small town of Catuera in Paraguay. Catuera isn't like most places, it is part of a landfill made of trash. Poverty surrounds the people who live there and so does crime. As one can imagine, Ada and her parents worry about their future. Her grandmother took care of Ada before she was old enough for school while her parents worked. Her abuela loved to sing to Ada. Her whole family loved music. One day Ada's grandmother saw a sign at the chapel from a music teacher named Favio Chávez offering free music lessons. She signed Ada up. But many children showed up for lessons and there only three guitars and two violins to share. Ada dreamed of playing the violin, but knew she needed an instrument of her own to practice. Her family had no money to spend on such a luxury. Then Señor Chávez had an idea. He knew of a band that made its own instruments so he asked a ganchero, a carpenter named Nicolás Gómez to help. With much experimentation, soon there were enough instruments, made from trash, for anyone who wanted to learn to play! Ada finally got a violin, made from recycled trash, of her very own. Readers follow Ada and her fellow musicians through their plight to learn to play these instruments all the way to their success taking the stage for audiences to hear them perform.
Opening pages: "Ada Ríos grew up in a town made of trash.
Every morning at dawn, Ada heard the first garbage trucks rumble and roll down the road to Cateura. Beep, beep, beep! Backing into the landfill, they tipped their loads up and up and-CRASH! The trash came tumbling down-fifteen hundred tons each day."
Why I like this book: I spent last week in Paraguay. Music is a very important part of the culture. Although I did not see any musicians from Cateura play, I was fortunate to see a young man play a Paraguayan harp. And young women perform traditional dances. I am thrilled Susan Hood has shared this story of The Recycled Orchestra.
Families live in poverty all over the world. The story, Ada's Violin, allows readers to empathize with their lives and witness their fight against such undesirable conditions. In this story we are witnesses to the power of courage, community, and creativity to overcome insurmountable odds.
Resources:
There is an author's note that tells more about Ada, her family and the orchestra. She also adds url's for websites and videos.
See the 60 Minute segment The Recyclers: From Trash Comes Triumph here.
For more of today's reviews, see author Susanna Hill's blog here.
Happy reading!