Let Them Play by Margot Theis Raven
Today's pick for Perfect Picture Book Friday is Let Them Play.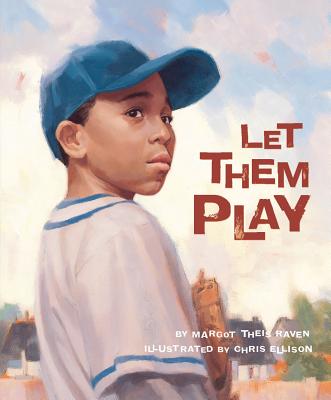 Written by: Margot Theis Raven
Illustrated by: Chris Ellison
Publisher: Sleeping Bear Press (2005)
Suitable for ages: 7 and up
Themes/Topics: Little League Baseball, US history, segregation, racism, Jim Crow south, Civil Rights, perseverance, resistance, resilience
Brief Synopsis: The story depicted in Let Them Play is true. In 1955, a segregated South Carolina had sixty-two official Little League teams. Only one of them, the Cannon Street YMCA All-Stars, had African-American players. Like most young boys who loved baseball, they wanted to play, but the other white teams didn't want to play them. After the sixty-one white teams pulled out of the Little League and formed another program, the Cannon Street YMCA All-Stars became state champs by default. However, they did not qualify to play in the Little League Baseball World Series in Williamsport, Pennsylvania because they hadn't actually won any games or their state's tournament. The team ended up going to the World Series anyway in hopes of taking the field. The title Let Them Play is what the boys heard from the crowds in attendance who wanted to see them play.
Opening pages: "Most folks say it was Coach Ben Singleton who pulled the all-star dreams from the sky over Harmon Field and sprinkled them in the eyes of 14 boys the summer of 1955. Not that baseball dreams weren't already rising high as the heat waves on noonday porches all over Charleston's Upper Westside.
Boys wanted to be Jackie Robinson playing for the Brooklyn Dodgers, and mothers like Flossie Bailey on Strawberry Lane wanted to find their missing mop handles. Stickball players like her son John used the handles as bats to hit half-rubber balls and sandlot player made mitts from paper bags or cardboard sewn with shoelaces." 
Why I like this book: Its baseball season and opening days are happening all over the country. My kids participated in team sports because we wanted them to learn about rules, and what it takes to be a team player as well as other life lessons. There is much to learn from sports, like sportsmanship and playing fair. We also know kids learn that sometimes life can be unfair and even harsh.
Let Them Play is about the true life events of young athletes who were treated differently based solely on the color of their skin. The bigotry and discrimination these young players experienced were common during this time, especially across the southern United States. This story gives readers specific examples of what it was like for African-Americans who lived in the Jim Crow south during segregation where racism was so prevalent. It also shows readers examples of pride, perseverance, resilience and resistance. For those looking for a story with wonderful examples of how oppressed people navigated life under adverse conditions, this one hits a home-run.
Resources:
See discussion questions and activities from the William Allen White Children's Book Award here.
Check out author Susanna's Hill's Perfect Picture Book page here to read more of today's book reviews.